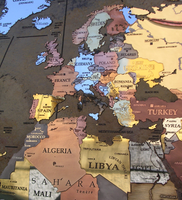 The world is the most incredible artwork donated to men.
Our passion is to create artistic metal world maps (and metal artworks on demand) with techniques, materials, metals and 24k gold used to create real jewelry.
Decorative 2D boat models on demand and also art wall globes that want to be a tribute to the beauty, remembering first of all the beauty of the world and the great fortune of being part of it.
Our works are a mix of mother of pearl, 24k gold, hundreds of metal inserts that are engraved, cut, painted and inlaid one by one by hand in stone and wood.
The artistic representation of the earth is never banal in any context. The world map always reminds us travels, experiences, events, business, memories, places, and people.

For home, yacht, office and prestigious interiors our world maps and artistic 2D replicas models conferring the greatest prestige.
METAL ARTWORKS AND '2D' REPLICAS MODELS ON REQUEST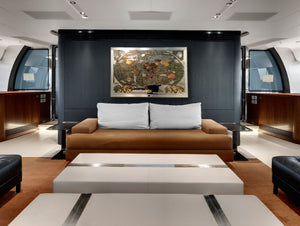 YACHT - SAILBOAT
Yachts and sailing boats are like our second home, very often full of technology and plastic materials. With an art wall globe or an our nautical panel you' ll give a great refinement to the interior. The charm of the wood, stone, metals, mother of pearl, and art workmanships are unique.  For navigators, an artistic world map always is the most pertinent decorative element. By evoking past journeys or maybe the nexts a planisphere will be always a source of interest, beauty, and great utility.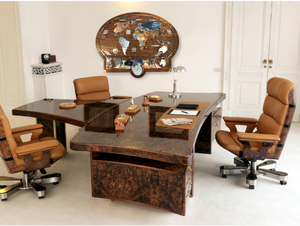 OFFICE
Your office represents you, it is your image projected onto others. Often is difficult to decor a workplace, an artistic world map also custom (e.g. with your logo) is the best advertising art decoration available. You'll notice the interest that arouses in any person or client who ll enters your office. Certainly, besides the great refinement donated to your workplace, it will emphasize the prestige of your professional image.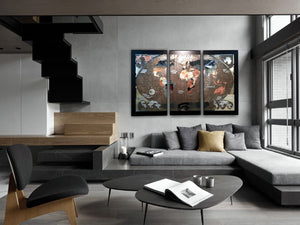 HOME
Fine tasteful and originality are noticeable also in the complements that decorate our home. An artistic planisphere in any setting arouses a strong elegance and interest. A wall globe  tells about journeys, lands, islands, seas, countries, people, above all it is also a piece of artistic craftsmanship. The precious metals, wood, and stone certainly will bring great charm and glamour into your home. In a classic or modern environment a refinement never banal.
HO.RE.CA
Any open mind knows that the first impression is all. In any sector of your business, the image of your headquarter is very important. It doesn't matter if is a hotel or a company, the main entrance or a reception, a representative office or a meeting room, all environments can increase a lot the elegance and prestige with an artistic world map. To amaze clients or highlighting your offices around the world, our panels will give the best presentation to  your brand.
HERE SOME SAMPLES , MORE IN THE MENU PAGE.